Lewisburg Antique Malls
The most popular hobby of all-time is antiquing and junking, and there is no better place than our antique malls in Lewisburg, PA. Central Pennsylvania is famous for the best antique malls in the state. What makes antique shopping in Lewisburg unique is the price, quality, variety, and quantity of our antiques, vintage, and collectible items. You can find lots of primo, heirloom quality antiques at prices much lower than at many famous antique-shopping destinations. We have three great malls to choose from all located just with-in feet of each other, and they have something for all ages. Each of our malls has their unique variety of items but when you shop all three, you will likely to hit gold.
Silver Moon Antique Mall and Collectibles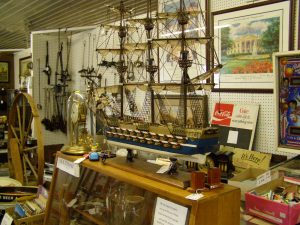 Hour: Mon. Wed. Thu. Fri & Sat. 10am–5pm, Sun. 8am – 5pm. Closed Tuesday.
The Silver Moon Antique Mall is located next to the Route 15 Flea Market and has a unique mix of antiques, crafts, furniture, toys, textiles, records, and collectibles of many kinds. At Silver Moon Antiques you are likely to find antiques over 100 years old as well as some primitives and holiday décor.
Silver Moon Consignment Barn and Antiques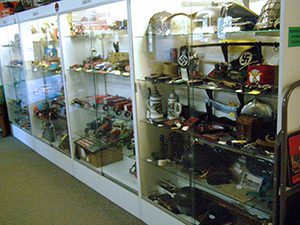 Hours: Wed. – Mon., 10am – 5pm, Closed Tuesday
The Silver Moon Consignment Barn and Antiques have 72,000 square feet with over 100 vendors. It is located less than 1,000 feet from the Silver Moon Antique Mall. The Consignment Barn features Antiques and collectible items ranging from primitive to the 1970's. We also have a large selection of used furniture items.
Lewisburg Antiques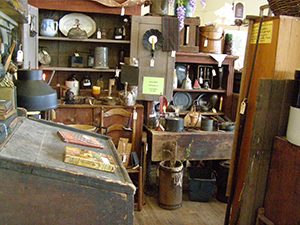 Hours: Mon. & Wed. – Sat. 11am– 7pm,
Sun. 11am– 5pm. Closed Tue
Lewisburg Antiques is located across from Walmart. Here you will find primitive furniture with a mix of army navy items, glassware, farm items, rare blue decorated stoneware, machinery, paintings, and of course many other vintage and collectible items. With 10,000 square feet and almost 100 vendors, we have an excellent selection for nearly every age collector.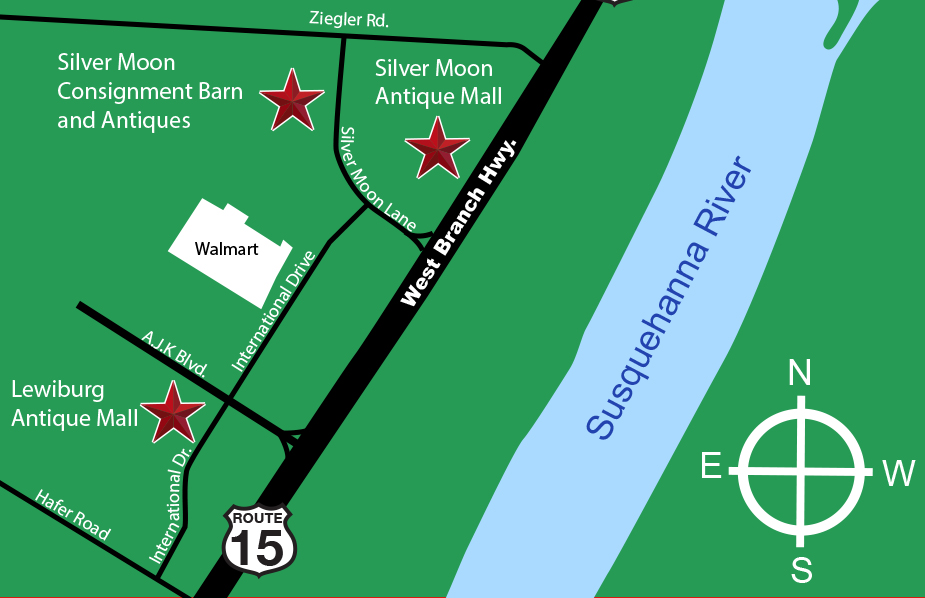 Take U.S. Hwy 15 N to AJK Blvd, Lewisburg, Pennsylvania Travel time about 1 hour and 10 minutes.
Take Route US-22 East to I-99 North. Continue on I-99 North to I-80 East. Take I-80 East to US 15 South to AJK Blvd in Lewisburg. Travel time about 3.5 hours. From
Take I-83 N, to US-11/15 N. Follow US-15 N to AJK Blvd in Lewisburg. Travel Time about 2.5 hours. From
Take I-476 N to I-80 W to US 15 S to AJK Blvd in Lewisburg, PA . Travel Time about 2.75 hours.